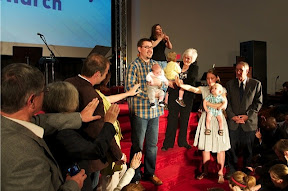 This week marked a somewhat more laid-back week than some of the previous ones, at least for the first half. The weather was a bit colder and rainy, so we ended up staying around the house and just getting ready for the rest of the family to come up for the weekend.
The fun really started on Saturday when grandma and grandpa Oland arrived early afternoon and aunt Julie and her crew arrived a bit later. They all came to see Alex and specifically to attend his dedication at church on Sunday.
The dedication on Sunday went well too. Turns out that not only was Alex dedicated, it was the first week for our church to meet in the new building. That made the morning doubly special.
Firsts
Maybe not exactly a first for him, it was the first time that both grandparents were here together to see him at the same time. And for those who don't know, that's quite an accomplishment as Feli's parents are from Romania and have only been here one other time since we've been married.
Ups
By the end of the week, Alex appears to have finally gotten past his growth spurt and whiney phase. He does still cry, but it happens much less frequently and he is a bit easier to console.
Downs
Aside from being a bit more unhappy than some babies, I can't think of any real downs for this week.